GEFA Exportservice GmbH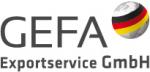 The GEFA Exportservice GmbH (GEFA GmbH) ist service provider of the German Export Association for Food and Agriproducts GEFA e.V. (GEFA e.V.).
The main aim is to support companies in doing exports worldwide. Thus, GEFA Exportservice GmbH is committed to both organise export events like trade show participations, networking events, business trips as well as creating export networks with potential customers abroad.
The GEFA Exportservice GmbH was founded on 20 April 2017. The company is entered in the Commercial Register with the Amtsgericht Berlin Charlottenburg, Department B, under No. HRB 186776 B. Its headquarters is 10178 Berlin, Gertraudenstrasse 20.

Activities
Organising GEFA trade shows abroad
Organising Business trips both abroad and in Germany
presentation German exporters at international conferences
matchmaking events in Germany and abroad
realisation of promotion activities (e.g. German Food Festival, German Christmas promotion)

Managing Director
Holger Hübner
Shareholders
GEFA e.V. is sole shareholder.