9th GEFA Diplomats' Salon succesfully implemented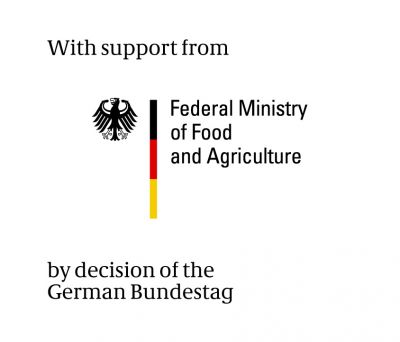 To the politically high-class occupied 9th GEFA-Diplomaten Salon we could welcome yesterday evening the Parliamentary State Secretary in the German Federal Ministry for Food and Agriculture, Mrs. Claudia Mueller and numerous ambassadors as well as agrarian and economic attaches of the foreign embassies.
The event took place in the top location Axica at Pariser Platz with a unique view of numerous highlights of political Berlin.
The topic of the evening were the international cooperation projects of the BMEL in cooperation with the economy. Using the example of a seed project in Ethiopia that has been running for more than 10 years, Dr. Peer Wilde of KWS Lochow GmbH explained his practical experience and conclusions. One of his key conclusions included the recommendation to further intensify the promotion of biodiversity as a key to food security, balance between cash and orphan crops.
We thank the BMEL for their renewed support, and a big thank you also goes to our sponsors.
Supported by: German Raiffeisen Federation
Promoted by: German Poultry Association and www.bayer.com