Call for tenders: consumer market data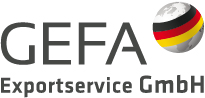 We are pleased to announce the opening of our competitive bidding and the publication of the documents on the tender procedures for the provision of product and consumer market data.
Consumer market data are of great importance for selected member organisations of GEFA e.V. and for the exporters affiliated to them with regard to the preparation of their export projects at home and abroad.
The following central objectives are the focus of attention:
- Increasing sales of German agricultural and food products abroad
- Development of new export markets
- excellent market information for GEFA licensees and their affiliated member companies
By means of the information competence, the GEFA licensees and the affiliated exporters should be prepared in the best possible way for the export promotion activities of GEFA GmbH, such as trade fairs, promotion campaigns, listing discussions and events, etc.
All proposals need to be submitted no later than 29th May 2020. Questions are to be addressed by email to Paulina Minzila or Sonja Hammann until 15th May 2020.
You will find all necessary documents here.