Call for tenders: Global trading and retail market data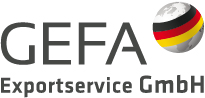 We are pleased to announce the opening of our competitive bidding and the publication of the documents on the tender procedures for the provision of global trading and retail market data.
Data on the food retail sector are of great importance for GEFA GmbH as well as for the member organisations affiliated to GEFA e.V. and especially for the exporters affiliated to these organisations with regard to the preparation of their export projects at home and abroad.
The following central objectives are the focus of attention:
- Access to comprehensive and high-quality global retail market data for the preparation of market studies (structure of the retail market, top 10 retailers in the respective countries)
- Increase in sales of German agricultural and food products
All proposals need to be submitted no later than 1st May 2020. Questions are to be addressed by email to Paulina Minzila or Sonja Hammann until 17th April 2020.
The complete invitation to tender can be found here.