Virtual Presentation Event Meat, Canada, 25 - 27 January 2021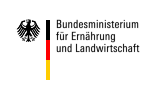 With an export volume of 9,258 t in 2019 (+54.5% compared to 2018), Canada is ranked 16th among the most important third countries for meat from Germany. In 2020, these exports continued to rise by 11% to 7,316 t from January to September. This makes Canada currently one of the few buyer countries for frozen pork from Germany.
The current travel warnings only allow the implementation of virtual presentation formats. The following event from GEFA e.V. in collaboration with AHK Kanada offers the chance to further increase exports to Canada.
If you are interested, please contact die Geschäftsstelle.